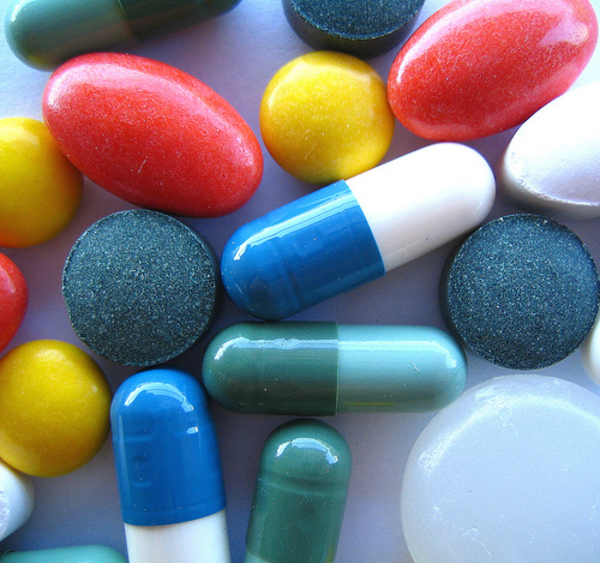 Pills, pills, pills. Where do I begin? The world is obsessed with pills!! With all the crap out there there is no wonder several of my friends and many American consumers are being misled. The fact is that you do not need supplements if you have a properly balanced diet. The only reason for supplementation would be for a deficiency of some kind.
To take supplementation without a true need for it might actually do more harm than good. According to an article titled
Do you need a vitamin supplement?
"Millions and millions of people spend billions and billions of dollars on vitamin supplements every year. In 2004, 19.6 billion dollars was spent on this phenomenon. Many people think they are preventing heart disease or cancer by popping every vitamin supplement they can get their hands on. What many fail to realize, however, is that with the water soluble vitamins (B vitamins and vitamin C), whatever is not used is eliminated each day. Stocking up on these vitamins therefore, is not possible.........................................................................................................
As far as the fat soluble vitamins, vitamin A, vitamin K, vitamin D and vitamin E, whatever is not used is stored in the liver so stockpiling these vitamins could lead to toxic results."
Based on this excerpt, there is no real need for supplementation unless you have no choice due to a health problem. Something we also have to realize as members of food abundant nations is that we usually get more than enough supplementation from our diet. Therefore, taking supplements on top of an already balanced diet will be like pouring water into a cup that is already full, which could become a flood if not monitored.

I try to have a balanced diet so I do not rely too heavily on supplementation. However, I was once diagnosed with anemia so I take an occasional Iron supplement to prevent it. I also take omega 3 fish oil because I don't eat a lot of fish and vitamin C because if reduces recovery time between workouts. Furthermore, I take a light multivitamin which has a low dose of a large range of vitamins and minerals which is good for replacing anything my diet did not cover that day. I try to stay away from fat soluble supplements because the risk for toxicity is too high. My advice to you all is to focus more on a balanced diet and less on supplementation. If you do take anything, take it cautiously and with a purpose, not just because you think you need it.

Leave me a comment and let me know what you think! or email me at 0a4w@virginia.edu